Playing Through The Blues Review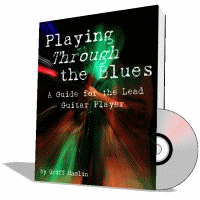 Reviewer: Jason Payne
Rating:


Website Reviewed: Playing Through The Blues
If you like blues music and you want to learn to play guitar then this system could be for you. Playing through the blues is a system which is specifically designed to teach you how to play blues style lead guitar. Griff Hamlin, a blues guitarist with 20 years professional experience designed this course based on the most successful methods of teaching he created during his career. The system includes an e-book with audio examples of every example in the book, (one at slow speed and one at full speed) plus videos and jam tracks.
Click Here to Visit Playing Through The Blues
The fact that it is blues based will help you if you really like blues style music because it is always easier to find motivation working with the music you really enjoy and that you want to become really good at.
Here's a run-down of what you get when you buy this product:
A guide for the lead blues guitarist e-book

Rhythm and Chord module e-book

18 blues rhythm lessons with 90 minutes of video

Members only blog which includes with additional TAB transcription of a couple of the videos

Complete solo transcriptions which you do not have to be able to read music to learn. Examples are written in TAB

Main lead guitar course with 120 minutes of video

Blues masters section with example solos

10 jam tracks

20 turn around and ending licks

Lifetime updates

Instant access regardless of the time of day
In addition you can get a free 6 part mini e-course if you want to see examples of the kind of training you will get with the product.
I think that the Key features of this product are:
It is a blues based guitar teaching system for the blues lover.

It covers both lead and rhythm guitar

You get detailed instruction on how to get that blues sound and how to play blues solos

The system teaches you how to improvise over any blues tune

It explains how to practice so that you make the best use of your practice time

It is a step by step method so you can learn at your own pace

You will learn how to understand chord and scale relationships in the blues

You will learn how to use blues scales and patterns to create solos

Over all you get a detailed understanding of all the ingredients you need to play great blues guitar
If you want to become a competent blues guitarist then the information in this course will provide you with everything you need to do that. The system is packed with essential content and the instructors' passion for the blues comes across through his teaching.
The system is built for the aspiring blues guitarist and for that reason if you don't really like blues music you would be better off going for another system.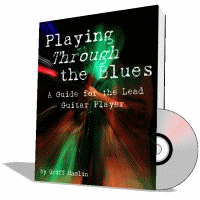 So if you love blues guitar and you want to get playing the blues quickly you can order Playing Through the Blues – A Guide For The Lead Guitar Player Click through 'Learn more' to place a 100% secure online order by clicking 'Add to cart' for immediate instant access regardless of the time.