Jamorama Review
Reviewer: Jason Payne


Rating:
Website Reviewed:

Jamorama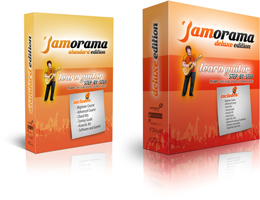 Jamorama has been around a while and the website proudly reveals that over 70,000 guitarists have learned their skills by following the Jamorama learning method.
The Jamorama guitar system comes in three editions. Also there is a free course which can help you decide whether it is the method for you before you actually buy anything.
Two of the three editions are online systems. These are the standard edition and the deluxe edition. The other edition is a hard copy version of the standard edition.
The main difference between the standard edition and the deluxe edition is that the deluxe edition has additional training targeted at teaching you additional skills so that you learn how to play guitar solo's.
Here's a run-down of what you get when you buy this product:
Jamorama beginners e-book

Beginners video lessons - including guitar tabs

Beginners Jam tracks

Jamorama advanced e-book

Advanced video lessons

Advanced jam tracks

Jamorama chord and riff kit including video sessions

Chordinator software game to help you learn the chords

Tuning Guide eBook & Guitar Tuner Pro Software

Jamorama Acoustic Focus eBook, Video Lessons and Jamtracks

Jamorama Software & Games Package to make learning more fun.
The deluxe version includes the following in addition:
Jamorama Lead Lessons eBook, Video Lessons and Jamtracks

Jamorama Lead Licks 10 Week Lesson Series

Advanced Learning Techniques eBook

SongPond Starter Pack (includes 30 day access)
I think that the Key features of this product are:
It is a comprehensive rhythm guitar course

It provides a number of different learning methods to help you learn

The video lessons are detailed and capture both chord and strumming hands

The course includes a number of different software packages:

The software is really games packages to make learning more fun.

The deluxe edition takes you from rhythm guitarist to lead guitarist

All the editions allow instant access to the online versions regardless of the time

Includes access to an online forum for guitar discussion
The Jamorama guitar teaching course has been designed to be useful to the guitarist at any level. From complete beginners to people who have been playing a while but who want to learn new skills or to just improve generally. The system covers all the guitar skills and a large part of it is that learning experience is designed to be fun. To be enjoyed not just slogged through. The course is tried and tested and has been improved and updated.
My opinion is that Jamorama is a good all round course. It has something for everyone no matter what your taste in guitar style is and the software games really are pretty fun. I would recommend it as a thorough and comprehensive way to learn guitar.
So if you want to give the games a go and experience a guitar teaching system which is unique but effective, you can order Jamorama here Click through 'Learn more' on your preferred edition to place a 100% secure online order by clicking 'Add to cart' for immediate instant access, regardless of the time.