Adult Guitar Lessons Review
Reviewer: Jason Payne


Rating:
Website Reviewed:

Adult Guitar Lessons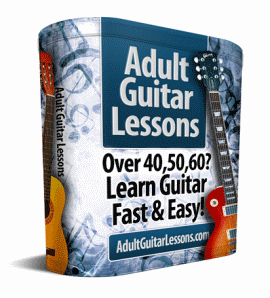 Adult Guitar Lessons is described as 'Guitar Lessons for Active Adults' and is primarily aimed at the busy adult guitar student. However, in today's society most of us are pretty busy. The main advantage of this course is that it cuts to the chase and doesn't bother with music theory. The intention is to provide easy to learn, easy to follow online multi-media guitar lessons. The objective is to deliver 'No fluff' content and quickly teach you how to play songs.
Here's a run-down of what you get when you buy this product:
Guitar lessons for the beginner

Guitar lessons for the intermediate guitar player

Totalling over 100 beginner to intermediate lessons

Lessons showing you guitar licks

Any course updates become available to you

Any course new features will also be made available to you

Instant access regardless of the time

60 day unconditional money back guarantee
Click Here to Visit Adult Guitar Lessons
I think that the Key features of this product are:
Detailed video lessons

Tabs which are made simple

Clear illustrated chord diagrams

Music charts which do not require music theory to understand

Clear written explanations

Colour pictures of chords and patterns

Goals set for each lessons
One of the main features of this product is that it does not concentrate on practice done over and over again. It concentrates on keeping the student motivated by introducing new stuff right when you need it so that you are made to feel like you are constantly progressing.
The emphasis is to get you in to the nuts and bolts of playing as soon as possible and as soon as you can cope with that it moves you on to playing along with songs and from there playing on your own.
No doubt about it, this product will get you playing and if your main driver is to play along with songs and for people to be able to recognise what you are playing as soon as possible, then this is the product for you. If, however, you really want to dig in deep to music theory, have a look at the other products available. This is not a criticism of the product just that you have to be clear about your objectives and what you will get out of purchasing this product. This product is clearly for those who wish to be able to play along with tracks and songs quickly moving on to playing by themselves and is not for those who really wish to understand classical guitar.
The lessons are easy to follow and I whole heartedly recommend it to those of you who have the objective of being able to play songs quickly and wish to know only that which is necessary to accomplish that goal. It's a good place to start and I have found that hearing my own progress motivated me even more.
So if you want to get playing quickly you can order Adult Guitar lessons here Click through 'Learn more' to place a 100% secure online order by clicking 'Add to cart' for immediate instant access regardless of the time.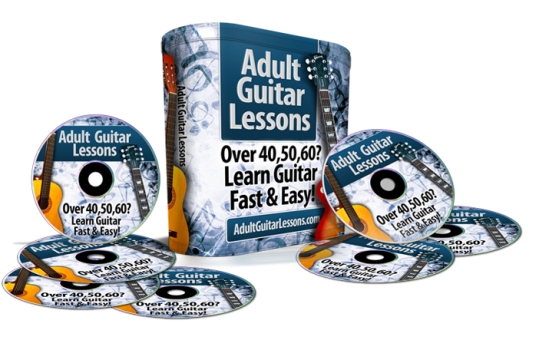 Click Here to Visit Adult Guitar Lessons