Learn to Play Guitar Online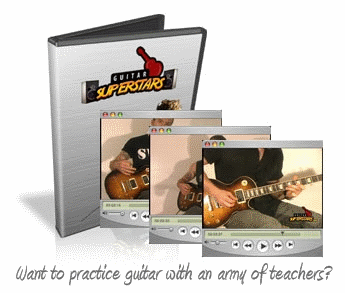 In the article, Beginners Guitar Lessons, we took an overview on four ways you can go about learning the guitar. In summary, there were lessons at school if you are of that age and fortunate enough to have a school that teaches guitar. Next we looked at private guitar lessons, and then we discussed how the likes of Clapton and Hendrix did it - picked up a guitar and self-taught. Finally we looked at e-learning and in this article we are going to look in a little more detail at one aspect of e-learning which is how to learn to play guitar online.
Click Here for Guitar Super Stars - a great way to Learn Online!
The key difference between learning to play guitar online and how Hendrix did it is in fact you do have a teacher. It is just the teacher is not with you and is passing on his art through the online medium. By going online and doing a quick Google search, you can find a vast resource of online lessons from the basic chords, scales, tablature, right the way through to sophisticated guitar finger-picking techniques.
There are a number of advantages of learning to play the guitar online:
The lessons are free

- most websites that enable you to learn to play guitar online are free to the students and are funded through sponsorship or related product sales. Consequently, even students of modest means can learn to play the guitar online.
The resource is vast -

there is so much out there that you have plenty of 'teachers' to choose from. If you don't like the style that the website uses to enable you to learn the guitar online, search again and there will be plenty of other sites you can try. In a way, learning to play guitar online with a 'virtual teacher' is similar to that to learning with a personal teacher- there will be some styles you like and some styles you don't.
However, you must be aware of the disadvantages.
You need to be disciplined

- with no pre-booked lessons, timetable or personal tutor that you have to 'phone up to make excuses why you are not attending lessons because you are ill, (i.e. want to watch the football), it is easy to get out of the habit of learning.
You need to have an internet connection

- obvious, I know, but if you're sharing the use of a computer, or in a Wi-Fi black spot if you're not wired, the lessons may have to wait.
Lack of human interaction -

some people struggle to do it any way other than the traditional way. Having some one to interact with, ask for clarification, be critiqued by, and motivated by is essential for some students. In addition a personal teacher will provide structure. The disadvantage of having so much resource online it's sometimes difficult to seek out the wood from the trees.
So there are plusses and there are minuses. If you think you have the motivation and discipline and of course a web connected computer, why not try to learn to play guitar online. After all, you have nothing to lose (apart from your time) and if it doesn't work out for you, you could either try the traditional method of getting a personal teacher or an alternative form of e-learning that we will discuss in the article Download Guitar Lessons.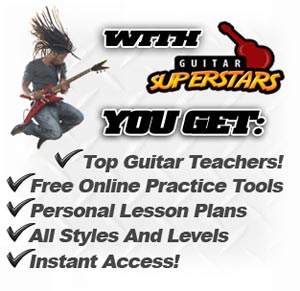 Are you interested in learning guitar online?
Do you want to learn from experts?
Do you want instant access?
If the answer to these questions is YES - Click Here to check out Guitar Superstars