Thank you for your confirmation that you want to receive the guitartrainingbuddy.com Six part Learn Guitar Mini-course + Newsletter series
You'll receive the first part of the mini-course very shortly.
I thought you may also be interested in checking out an on-line guitar training system that has been recommended by a huge number of guitartrainingbuddy.com subscribers: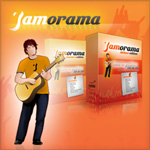 Want a comprehensive course which covers all you need to know about learning to play the guitar? Want e-books, training videos and jam tracks?
If your answer to either of the above questions is yes Then I strongly recommend that you check out Jamorama
This regularly updated essential guide includes a comprehensive rhythm guitar course, all of the above and much, much more. Click here to go check it out now!